Pets oasis
The Purple TAPOrtraits
Because they are in our 💜 furever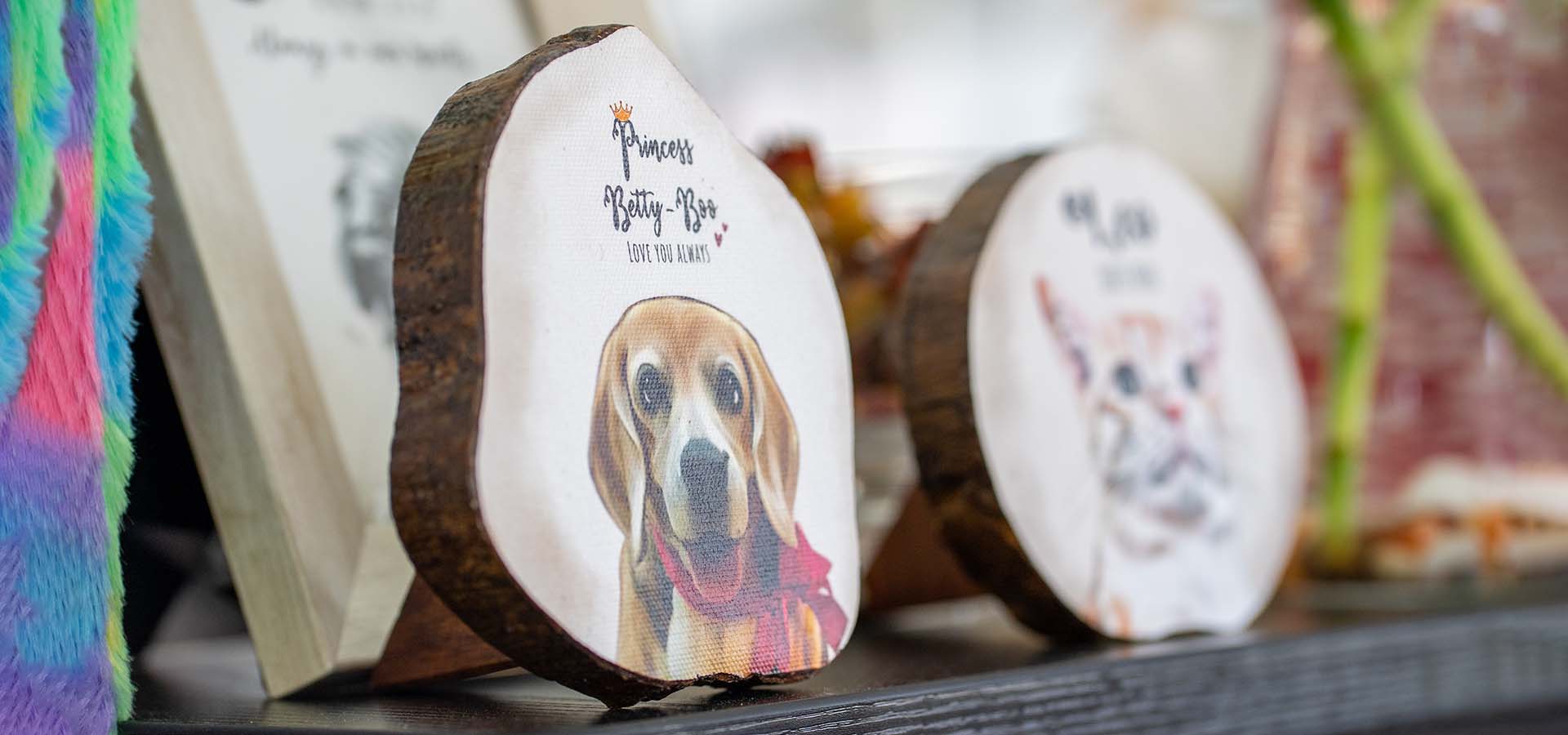 Pet owners will unanimously agree that "a home is not a home without paw prints!'  We go to great lengths to express our love for our fur babies and to include them in every aspect of our lives thus creating treasured memories! Wouldn't it be amazing if these cherished remembrances could be printed and framed in equally beautiful settings? Let us create a one-of-a-kind portrait of your beloved pet that you will treasure forever!
Well, fulfilling the needs of our patrons is something we continuously strive to do. So, we came up with the concept of The Purple PAWTRAITS — which are frozen favourite moments with your pet captured on canvas and mounted on weathered and hand-crafted wood, each with a unique shape just like your unique pet. They can be a form of personalised decor to be hung on the wall or displayed tastefully on your desk to remind you of the glorious times you shared. Pet Portraits from Photos – Turn your favourite pet photo into a work of art.
We understand that pets are like family, and we take great care to create personalized pet  pawtraits that reflect the love and affection you have for your furry or feathered friend. Our goal is to create a portrait that not only looks beautiful, but also captures the essence of your pet's unique personality. Whether you have a dog, cat, bird, or any other type of pet, we can create a beautiful portrait that you will cherish for years to come. Yes you read it right get your Pet Portraits from Photos – Turn your favourite pet photo into a work of art. The pet portrait artist will work closely with you ensuring we perfectly captures your pet's unique features. We not only do pets we do family portraits too. So, get that personalised family pawtrait done as they are family too.
These works of art are handmade with the utmost love and sensitivity by a very talented lady artist with a personal touch, who creates them in the sanctity of her own home while her own fur baby is watching her create magic. The pawtraits is a way to capture the unique personality and character of your beloved furry companion. Pet portraits make great gifts for pet owners or can serve as a lasting tribute as memorabilia for a much-loved pet. While you enjoy the portrait at home, your purchase contributes towards the 'Purple Paws Initiative' for helping get more dogs and cats that loving home they deserve.
 Just give us a call to know more about how to create your own Pawtrait as someone once said, 'a picture is worth a thousand words'! and declare your love for your furry family member and be a part of a great initiative too.
"

Creating ultimate memories

"