Pets oasis
Veterinary Clinic
Where paws are in safe hands
The Pets' Oasis brand is the pride and joy of Dr.Elizabeth Thomas, who has a lifetime of experience in veterinary care and a deep insight into the animal psyche. At Pets Oasis Veterinary Surgery, we strive to provide you with excellent customer service and quality medical care. Dr.Elizabeth and her team go out of their way to ensure that your pets get top notch service. They rise above and beyond the call of duty when it comes to ensuring the health and safety of their clients. Our team of skilled veterinarians, veterinary technicians, and support staff are dedicated to ensuring that your pets receive the best possible care. From preventive care to emergency treatment, we offer a wide range of services to keep your pets healthy and happy.
Our wellness exams include a thorough physical examination, vaccinations, and parasite prevention. We also offer dental cleanings and oral health evaluations to prevent dental disease and maintain your pet's overall health. Our diagnostic services include laboratory testing, X-rays, and ultrasound, and we are equipped to perform surgeries and other procedures as needed to treat your pet's medical conditions. But we're more than just a medical facility – we're a place where you and your pets can feel welcome and comfortable. Our team is passionate about providing personalized care and developing lasting relationships with our clients and their pets. At our clinic, we understand that your pets are part of your family. That's why we strive to create a welcoming and comfortable environment for both you and your pets.
We also offer additional services to help you care for your pets. Our luxury pet resort provides a safe and comfortable, loving home away from home while you are away you can be totally at ease as vet services are available 24/7 for in house guests.
Our grooming services keep your pets looking and feeling their best, while our pet taxi is a great convenience in your busy life. Moving countries leave the stress of relocating you fur baby to us. Our relocation team will ensure a hassle free move of your pet while all the vet requirements is done at our clinic and while your fur baby enjoys the  predeparture stay at our resort .
At our veterinary clinic, we understand that your pets are part of your family. That's why we go above and beyond to provide the best possible care for them. Contact us today to schedule an appointment and see the difference that our compassionate and skilled team can make for your furry friends!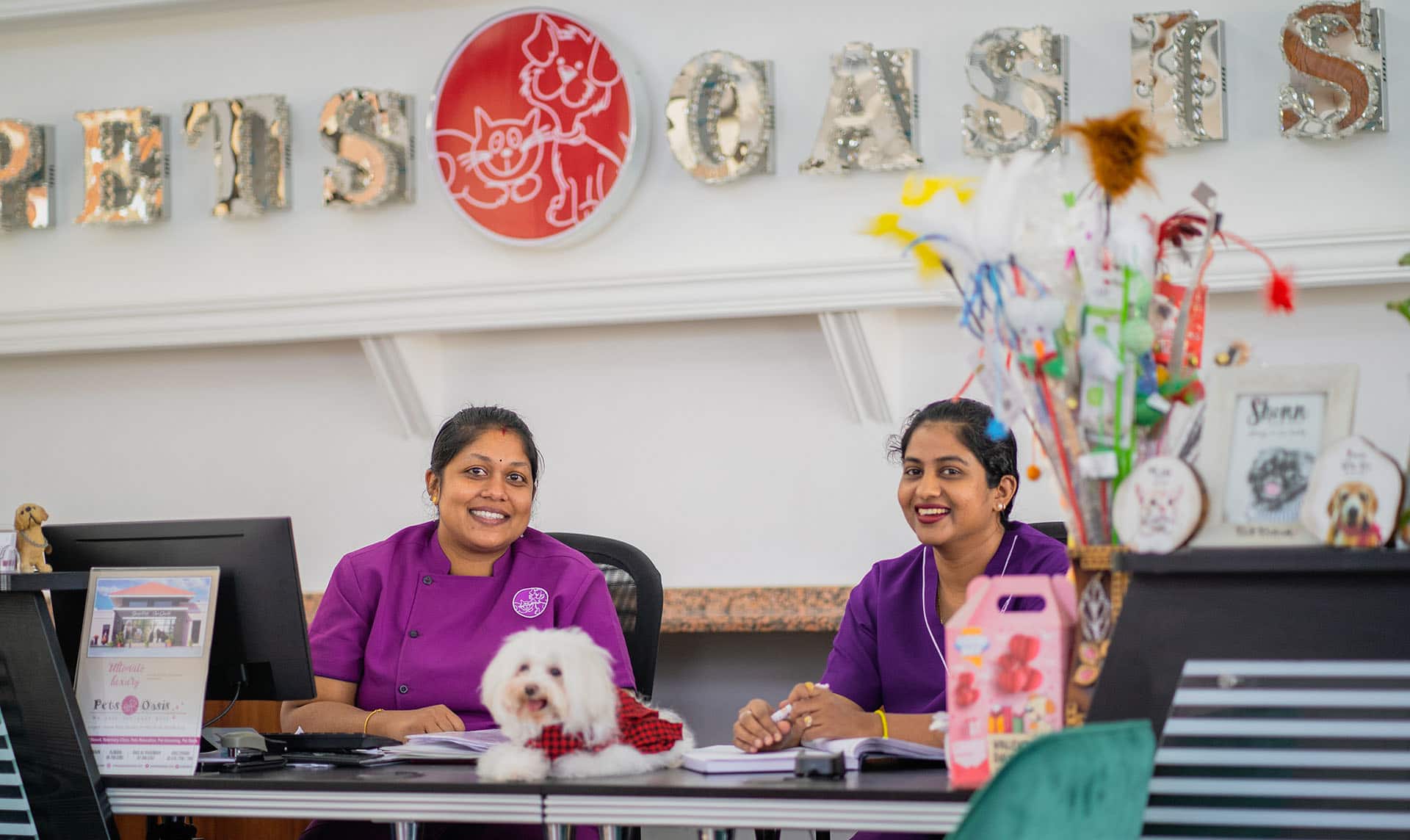 Pets Oasis UAQ
We take great pride in being the first veterinary clinic in the emirates of UAQ. We are in service of the pet community since 2006 and have grown steadily over the years. Excellent customer service with quality veterinary care by our professional team makes us stand apart. Planning on a holiday and your fur baby needs a surgery. Go ahead with your holidays as we are here to take care of the medical requirements of your pet while your pet stays at our luxury resort. Life made easy. Although we work by appointments, walk in are always welcome. Feel free to contact us in case of emergency and we will be there for you
Pets Oasis RAK
In order to cater to a growing pet population, Pets Oasis opened its Veterinary Clinic and pet store in RAK in 2012 Situated conveniently on the main road between the Mina al Arab and Al Hamra community. Dr.Elizabeth is available for consults Monday to Fridays between 5pm to 7pm by appointments only.
Pets Oasis Abu Dhabi
At Pets Oasis Veterinary Clinic Abu Dhabi situated in the heart of the city with its own private parking, provides quality veterinary care for your pets. With a team of experienced vets and in house diagnostics and lab facilities rest assured your pet is in safe hands. Even though we work by appoints walk in are always welcome and emergency care is available 24/7.
At Pets Oasis Veterinary clinics we are passion driven to bring in the best veterinary care for the furry family member
"

For that Ultimate Veterinary Care for your fur baby

"
Call your nearest Pets Oasis Clinic to book your pets appointment
 let us give them the best care